«Abans que es pins facin magranes i ses figueres melons»*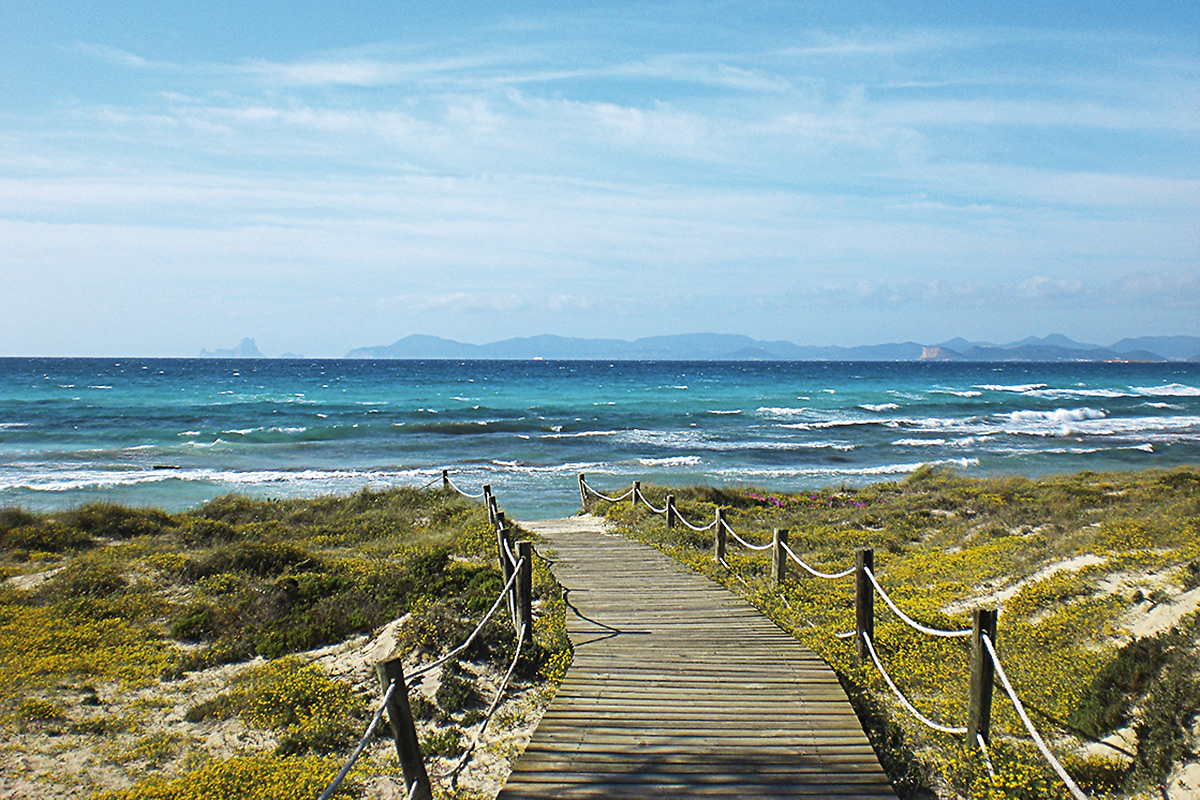 The main goal of the study presented here is to compile traditional knowledge about plants in Formentera and Mallorca, with a focus on medicinal and food uses, before it is too late and such knowledge is lost. Holistic perception of ethnobotany gives the study a broader scope and strengthens the role of plant folklore, making it a reference and a good counterpoint to a society that has sometimes been said to «sail without bearings».
AN ETHNOBOTANICAL INTEREST IN THE BALEARIC ISLANDS
Some authors claim that scientific fascination for islands began with Darwin's evolutionary interest in the Galapagos, and since then islands have been researched in depth. They have always been a very attractive target for Mediterranean botanists and anthropologists likewise.
«Scientific fascination for islands began with Darwin's evolutionary interests in the Galapagos, and islands have been researched in depth ever since»
While one may say that the study of plants is a practice as old as humanity itself, in the case of the Balearic Islands classical references to the native flora are scarce, and the information collected on plants in these times is widely dispersed and often comes from works applied to medicine, pharmacy or from literary accounts. Later, over the years, there have been many illustrious and other anonymous scholars who have described Balearic botany in varying depth (Payeras, 2006), dating back to the seventeenth century and continuing up to the present.
Among the best known authors of botanical works receiving popular and academic acclaim are Francesc Barceló (1820-1889) and Francesc Bonafè (1908-1994), whose works include ethnobotanical notes. Thus, from the naturalistic standpoint, documented Balearic ethnobotany emerged and evolved with floristic and herbal catalogues in the form of footnotes, as well as in the form of lists of species included in documents of applied disciplines related to therapeutic uses. From an anthropological or ethnographic standpoint, ethnobotany is based on the travel books of famous visitors (such as the Archduke Luis Salvador of Austria, 1847-1915), paving the way for foreign travellers and increasingly internationalising the Balearic Islands.
Academics believe that the islands and the Mediterranean in general became important because of their remoteness, intact ruralism and unspoilt people, which was what scholars then sought, a time and lifestyle in which we also set our work. The work of local authors is also noteworthy, as is the case Guerau & Torres (1981) in Ibiza and Formentera, and his important task of oral memory recovery, also in the use of plants.
«There are edible wild plants, such as purslane or prickly pear, which have been cultivated in the Balearic Islands for many years. Plants can also have domestic uses, such as for making pillows in the case of algae»
However, in line with the research group EtnobioFiC, our work is devoted to two of the Balearic Islands and is intended to establish the ethnofloristic catalogue of the study areas. In other words, we aim to compile inventories of plants known, appreciated and used by people living on the islands, specifying their names and many uses. We have focused on plants with greater novelty in their ethnopharmacologic and ethno-food potential. The working method is mostly descriptive, the semi-structured informant interview being the starting point for making an ethno-floristic catalogue, i.e., the useful flora of the land. At the same time, this catalogue provides a benchmark for qualitatively and quantitatively analysing ethnobotanical data (for details, see Vallès, 2007).
ethnobotanical knowledge. BALEARIC ISLANDS, A COUNTERPOINT TO TOURISM
In order to contextualise ethnobotanical knowledge in the areas studied, it is important to consider the physical and human environments which characterise them. The islands of Mallorca and Formentera form part of the Balearic archipelago, along with Menorca, Ibiza, Cabrera and other uninhabited islands. Mallorca covers an area of 3,600 km2 comprising three very different parts: the central plain and the southern marina, the Tramuntana mountain range to the west, with Mount Puig Major rising to a height of 1,435 metres, and the smaller mountains to the east. The average annual temperature and rainfall are 16 °C and 550 mm respectively. According to these characteristics, seven kinds of vegetation are established, including agricultural fields, oak forest, poor soil and rocky mountain lands, and the rocky shores which are subject to oppressive summer heat and the onslaught of rough seas in winter. Formentera is the smallest of the four inhabited islands; it has less rain and higher temperatures. The terrain is flat, but two ridges stand out, rising to 195 metres and 108 metres in height. There are six types of habitat: scrub pine, thyme, juniper, and the halophytic vegetation of the dunes and rosemary bushes.
«Regarding phytonomy, there is a so-called 'alga' a name applied to a vascular plant –unrelated to algae– based on its marine habitat. This plant is the namesake of various places within our linguistic domain, like the well-known city of L'Alguer»
To perform this work, elderly interviewees or informants more or less directly related with work in the countryside, and thus with a greater knowledge of the surrounding environment, were selected from each island. The interviews helped us collect a total of 129 taxa in Formentera and 228 in Mallorca, with many different uses ranging from medicinal and food purposes to domestic and magical-religious uses. The names of the plants may also differ or may be similar among islands, and we can even find differences within the same island. Regarding phytonomy, we can cite the case of a so-called «alga», a name applied to a vascular plant (therefore phylogenetically unrelated to algae) based on its marine habitat –which it certainly shares with algae–. This plant is the namesake of various places within our linguistic domain, like the well-known city of L'Alguer, or the S'Alga waterfall in Formentera or S'Algar located on another of the Balearic Islands, namely Menorca. Algae, in fact, are a good example of marine plants that have been closely linked to the daily life of the islanders for over fifty years.
Medical nomenclature is the most subjective when expressed by the informants, and in this sense to develop an ethnobotanical study, one must systematise the terminology. Among the selected medicinal species, anti-inflammatory and diuretic uses are highlighted. In general, although the restricted number of samples shown in the table on the previous page may not show it sufficiently, it can be said that the medicinal use of the islands' plants are primarily intended for everyday illnesses of a milder nature–as reported in other studies on our cultural area–. Regarding food uses, we can distinguish between human and animal use. For example, there are edible wild plants, such as purslane or prickly pear, which have been cultivated in the Balearic Islands for many years. Plants can also have domestic uses, such as for making pillows in the case of algae, for instance.
SCIENTIFIC NAME
POPULAR NAMES
USES
Herniaria glabra
Trencapedra (F, M)
Herba trencapedra (F)
Herba roca (F)
Herba de mal de pedra  (M)
Diuretic (F, M)
Kidney stones/lithotripsy (M)
Urinary antiseptic (M)
Renal anti-inflammatory (M)
Analgesic (M)
Malva sylvestris 
Malva (F, M)
Vauma (M)
Bauma (M)
Anti-inflammatory (F, M)
Laxative   (F)
Bronchopulmonary decongestant (F)
Would-healin (F)
Anti–ecchymotic (M)
Vulnerary   (M)
Antitussive   (M)
Opuntia maxima 
Figuera de pic (F)
Figuera de moro (M)
Bronchial decongestant (F)
Antihemorroidal   (F)
Antidiarrheal   (F)
Antitussive   (F, M)
Analgesic   (M)
Anti–ecchymotic (M)
Anti-inflammatory (M)
Antipyretic   (M)
Diuretic   (M)
Kidney stones/lithotripsy (M)
Portulaca oleracea 
Verdolaga (F, M)
Salads   (F, M)
Animal feed (M)
Ficus carica 
Figuera (F, M)
Rennet   (M)
Human and animal food (F, M)
Posidonia oceanica 
Alga (F, M)
Pillow stuffing (F)
Fertiliser   (F, M)
Food preservative (M)
This table shows some examples of uses of the most commonly cited species in Formentera (F) and Mallorca (M), with some of their popular names on the islands. 24% of all the flora of these islands comprises useful plants, which proves the importance of preserving such plant knowledge.
The ethnobotanicity index (the percentage of useful plants with respect to the total flora of the territory) of the two areas together has a value of about 24%. This indicator highlights and explains the large extent of our grandparents' knowledge on plants, having lived there and been part of the environment. These people exemplify how the two worlds come together: knowing how to identify and understand the plant species, and understanding how people use them now or did so in the past.
This information will soon be lost due to the change of course taken by our islands. Therefore, if we do not solve the problem now it will be too late or will never happen, as the popular song says, «Abans que es pins facin magranes i ses figueres melons», which means «when pigs fly». It seems that the Balearic Islands and many other well-known areas have surrendered to tourism and have turned their backs on what helped them survive up until the nineteen-sixties. To gather all this knowledge can represent an additional value and, if taken advantage of properly, another attraction for our visitors. In fact, we believe that this idea of going back in time and valuing the past is a reality; it should now become a more general challenge of our everyday way of life. Moreover, if we do not play the role of ambassadors –bearers of culture in general and of plant culture too–, who else will take on the challenge?
BIBLIOGRAPHY Barceló Combis, F., 1879-1881. Flora de las Islas Baleares. Pedro J. Gelabert. Palma de Mallorca. Bonafè Barceló, F. 1978. Flora de Mallorca. Moll. Palma de Mallorca. Guerau d'Arellano, C. i N. Torres, 1981. Nova aportació al coneixement de les plantes d'Eivissa i Formentera. Institut d'Estudis Eivissencs. Eivissa. Payeras, A., 2006. «Història de la Botànica a les Illes Balears: plantes vasculars». Bolletí de la Societat d'Història Natural de Balears, 49: 155-172. Vallès, J., 2007. «La recerca en etnobotànica a Catalunya: objectius, mètodes, zones estudiades, alguns resultats i comentaris generals.» RIDEC (Recerca i Difusió de l'Etnologia Catalana), 2 – ix – 2011: 1-10. * The original title of this article Abans que es pins facin magranes i ses figueres melons has been taken from a fragment of the song Jo tenc una enamorada (1974), by the Ibiza group Uc. It literally means: «When pine trees bear pomegranates and fig trees bear melons», which is a popular expression for «when pigs fly».
© Mètode 2012 - 72. Online only. Beloved Botany - Winter 2011/12