A Concrete Landscape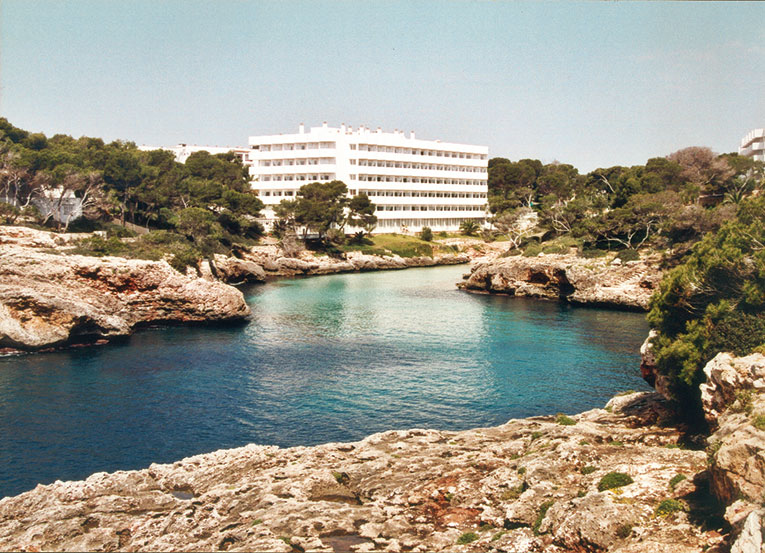 © Vicenç M. Rosselló




Cala d'Or (Mallorca).

The wave of tourism-driven urban development that hit the Balearic Islands from the mid-twentieth century on has greatly transformed the islands' seashore. The nooks and crannies where Blai Bonet's «coral and wheat1» used to grow have been touristised. This widespread process in the Balearic Islands –and the Mediterranean coast in general– has also directly affected the landscape of coves.

Many coves –called calas, caletes, calons locally– ravines and gullies opening onto the sea were left to God's will for centuries on end. First used to safeguard little boats, which were moored in the shelter of their bays and slipways, they have been sullied at the hands of art and grace –or possibly disgrace– tourism and urbanisation. Nowadays they are crowded by buildings and people who bathe in the sea and line their sandy and pebbled beaches.

This trend, which began on a widespread basis during the nineteen-fifties, means we can now classify the Balearic Islands' coves within a range that goes from virgin or unspoilt coves to fully built-up coves. From the echoing songs of ancient Greek poets, we come to the songs of pop-music groups in the mid-nineteenth century, all proclaiming that «Mallorca is beautiful» or «Mallorca Paradise of Love».

One could see how poverty, worthy if you will, has been replaced by apparent wealth, generated by leisure-seeking Europeans, in search of the sun and sand on our islands at a reasonable price. Many coves went from being flanked by Blai Bonet's «coral and wheat» to being sandwiched between sun-cream spread tanned bodies and hoards trampling the sea-lilies. «Collateral damage», they call it nowadays.

The cove as a tourist resort

Of the 1,428 kilometres of the Balearic Island coastline as a whole (623 in Mallorca, 299 in Menorca, 238 in Ibiza, 85 in Formentera, 40 in Cabrera and 142 in the other islands), around 10% are sandy, stony or pebble beaches. These are the most accessible spots for sea bathers and swimmers, one of the key components of those seeking «sun, sand and sea», the main tourist attraction. Over fifty years of mass tourism have shown us that other attractions, such as culture and landscape, are immaterial.

Coves have been colonised by tourists since the inception of tourism, despite geomorphologic problems linked to their commonly limestone formation, with their wide and deep penetration, their sea sediments, their steep edges with more or less vertical walls forming gullies. In southern Menorca we find beaches (Macarella, Macarelleta, Santa Galdana) on a rugged coastline, where beaches are accessible only at the mouths of ravines and gullies, which are dry most of the year round. Thus, the physical access to coves dictates their touristic or residential use. This is favoured if they are more open (like Cala Bona or Cala Millor, on the edge of the so-called beach-dune system), or if they are relatively low like Cala Montdragó, Badiola with its five sub-coves, which are very secluded, as the paradigmatic case of Cala Pi in Llucmajor.

Tourism has led to a transformation process through coastal urbanization where tourism is concentrated. This process has led to the creation of touristic spots on the coast with sought-after environmental resources: landscape, sea, beaches (white sand beaches are best rated by tourists), on which socioeconomic structures are built to welcome them (hotels, apartments and other residences) plus all the additional traps of tourism (restaurants, bars, clubs, shops). This has created so-called model seaside resorts, which have grown over the years.

The resulting tourist areas, however, are not all the same. Some have a non-touristic origin, such as the nineteenth-century agrarian colonies (Manacor port, the colonies at Sant Jordi, Sant Pere, Son Serra de Marina…). Then, of the resorts created for purely tourist purposes or summer residential areas (afterwards they have all been jumbled together in a disorderly manner), a portion come from pre-civil war developments (Cala d'Or, Cas Català, Palmanova …) while others arose in the fifties and later, in the seventies, they witnessed a new boom. Besides these, there are the ancient and historic settlements, such as Palma city, Mahon, Ciudadela or Cala Ratjada, or those used since ancient times as ports, such as Sóller and the port of Andratx. After 1920 places sprung up near Palma, like Ciudad Jardín del Coll d'en Rabassa, or at Cala d'Or, Palmanova (invented names, like many others), Portals Nous, Santa Ponça or S'Illot in Cala Moreia. Some of these places are really coves or just named so for the propaganda of attraction.

After the fifties, more residential developments appeared; the embryos of future areas of mass tourism, urban areas built next to the beach. This process of touristic growth took place in new places as well as in other places which were originally ancient fishing ports or settlements, as in the cases of Portocristo, Portocolom, Port de Pollensa or Andratx port. The great wave of development in the seventies gave rise to more complex nuclei, to name some of the coves and bays we have «Playa Tropicana» in Cala Domingos, «Playa Romántica» in Cala de S'Estany d'en Mas, «Club Mini Follies» in Cala Llamp de Andratx, or «Club Sa Font» in Sa Font de Sa Cala and Cala Provençals in Capdepera.

Tourist settlements took over the coves from the outset, with hotels and tourist residences springing up (Cala Ratjada, Cala Santanyí), and in some cases second-home urban developments (like in Cala d›Or in Llevant or Palma Nova in Ponent as well as the aforementioned Cala Major, near Palma). Later the original spots took a leap and generated a set of secondary hotels, and ended up becoming tourist resort complexes: this is the case of Cala Santa Ponça or the string of resorts in the Llevant baptised with the wonderful name «Calas de Mallorca».

«Many coves went from being between Blai Bonet's "coral and wheat" to being sandwiched between sun-cream spread tanned bodies and hoards trampling the sea-lilies. "Collateral damage", they call it nowadays»




© Miguel Lorenzo


Since the fifties, coves have progressively undergone a period of touristisation, with the proliferation of buildings and sunbathers crowding its sands. The images show the coves of Mallorca.
«From the sea, in summer there are traffic jams, caused by sea vessels looking for these remote and unspoilt coves, shredding the seagrass meadows with their anchors»

Touristic usage and abusage of coves

It must be said that until the advent of more modern and restrictive building regulations, touristic and residential infrastructures colonised the coves and stretches of coastline in a higgledy-piggledy manner without much urban planning. More recently we have seen laws passed to protect natural areas or urban and spatial planning legislation (POOT in Spanish), which among other things, «fossilised» –not to say clearly delineated– the different tourist areas.

Touristic building developments had clung to the coastline, deliriously and recklessly seeking to be as close to the beaches and coves as possible, to touch the sun and sand, and ended up giving rise to a phenomenon that has maliciously been referred to as «Balearisation» and, in slightly more academic terms as «coastalisation». Given the aforementioned POOT, policy papers were drawn up trying to establish the state of affairs on each of the islands, based on what they called «touristic areas». In these areas, coves emerge as an object of touristic development. Examples are Sant Vicenç, Cala Rajada, «Calas de Mallorca», Cala d'Or or Santa Ponça, where King James I of Aragon landed his ship to conquer the Balearic Islands in 1229. All these names are included in tourism subzones within the aforementioned legislation.

Thus, again it should be emphasised that we must be careful with the dynamics imposed by the recent laws passed to protect nature, parks, biosphere reserve or world heritage sites, which control the urban and touristic development in the coves within their jurisdiction. However, thanks to the gods, or to some bizarre laws or to the stubbornness of some owners or to public pressure, there are a handful of coves that have remained untouched, vibrant areas where the sea still washes up Santa Llúcia's stones, talisman to make us to see more clearly the need for further protection of wild and unspoilt spots. Because every millimetre of the area covered by fine sand, stony or pebbled beaches has been measured and mapped, and human density calculated at seven square metres of sand per bather, assuming we would be able to stand saturation or tolerance to the limit.

On the sands of small coves and bays, our jostling for space (towels, sun-beds, parasols…) reaches a limit and creates problems of physical and psychological saturation. This makes those «in the know» flee these crowded places and search out unspoilt spots, less colonised by foreigners or so-called guiris (the derogatory nickname applied to tourists by residents), even though these coves may be tricky to access and one must travel on foot. Access to such places is difficult, parking is drastically limited, but people cross fenced properties and, in some cases, even pay their owners for access to certain secluded coves in Menorca. Others come in from the sea (the coast is free for all), and in summer there are traffic jams, caused by sea vessels looking for these remote and unspoilt coves, shredding the seagrass meadows with their anchors.




© Miguel Lorenzo




Tourists crowd the most popular beaches, driving many locals in search of less frequented coves, even though access is difficult.

A tour of the touristised coves

It is possible to classify the coves according to the degree of residential and touristic colonisation, ranging from the most urbanised ones to those inhabited by a single hotel, from the lonely bar on the beach sands to the virgin sands at the other end of the scale. Here, I shall take you on a descriptive tour of the Balearic coastline. It is the sandy shorelines of Mallorca, Ibiza, Menorca and Southern Formentera that have been subject to residential and touristic development. However, paradoxically, it is the untouched coves that provide the pictures filling guidebooks, the main attraction to lure the tourists and promote tourism.

In Menorca there are two distinct areas, Tramuntana and Migdia. Tramuntana, with its expressive and tortuous coastline, has little appeal for tourism. By contrast, Menorca's Migdia is the area where the hotel business is concentrated, the coastline follows a linear path, it is flat and rises above the sea with sandy coves and inlets, alternating urbanised with non-urbanised areas. A series of coves and beaches line the coast from the tip of Sant Carles to the tip of Es Gegant, some of which remain untouched and protected, while others are urbanised. This is the case of the coast from Cala Torrent to Cala Binidalí, with the urbanisation of Binibèquer, Binisafulla, Biniparratx. Cala en Porter is a highly urbanised area (next to Calas Coves, with prehistoric dwellings), but going on towards Trebalúger, this is not the case. Again Cala Santa Galdana is urbanised, but Calas Macarella and Macarelleta are unspoilt. While spots near Ciutadella, Cala Blanca, Cala Santandria, Cala en Blanes, Cala en Brut, Cala en Forcat are also built up.

In Ibiza, the least urbanised area is the so-called Costa de Amunts, running from Cape Nunó to the Grossa headlands. This is a mountainous place with deep coves, indeed, but also with major residential areas, such as Port de Sant Miquel and Cala Porti-natx, which are densely urbanised. On the east coast, where we find Cala de Sant Vicenç and Santa Eulália coast, residential and hotel areas increase as we move towards Ibiza, as also happens in the bay of San Antonio de Portmany.

Meanwhile, south of Mallorca, starting in the area of ​​Ses Salinas and travelling to Cap Blanc, we find Cala En Tugores, which is a virgin cove, and Cala Pi, which is an old urban development that has spread to the neighbouring area of Vall-gornera. Meanwhile, the ​​Palma bay area (from Cap Blanc to Cala Figuera) Cala Blava, Calo de la Reina in the ​​Son Verí area are all built up. Cala Estància and Cala Gamba are considered to belong to the city. To the west of Palma, Cala Major and Cas Català are a continuous urban extension, while in the vicinity of Toro, both Cala Figuera and Cala Rafalbetx are two beaches that have not been urbanised, in the quintessentially touristic municipality of Calvia, just before entering the major touristic and residential conurbation of Santa Ponça, Peguera, Camp de Mar.

From Sant Elm to Formentor is the Serra de Tramuntana coastline, which is highly inaccessible, protected and mostly falling within the UNESCO World Heritage Site. Here we find the well-preserved Deyá cove, away from the village. Then on to Puerto de Sóller, a traditional urban centre, and the nearby Cala Tuent, which would seem to have been saved. Cala Castell is unspoilt but then we reach Cala Sant Vicenç, with its built-up coves (Cala Barques, Cala Clara, Cala Molins, Cala Carbo).

In the Bay of Pollensa, between Cape Formentor and Cape Es Pinar, the Gossalba and Murta coves lie virgin. In Alcudia, the little coves of Manresa, Cala de Sant Joan and Sant Pere spread their sands to the bathers residing in the neighbouring developments of Manresa, Es Mal Pas and Bonaire. The Bay of Alcudia, the area running from Cape Pinar to Cape Ferrutx, Baix Coll, is unspoilt, while the region encompassing Sant Pere, Caló de los Ermitans, Calos Campos, Cala Mata and finishing up in Caló of Ferrutx, is in good state of conservation.




© Vicenç M. Rosselló




Until more stringent regulations came into force, touristic and residential infrastructure took over the coast without any planning. Urbanisation and, especially, construction of tourist facilities on the beaches have had a negative impact on the coast, such as the loss of beach surface area and sand regeneration problems. The images on this page, from left to right and top to bottom, show: Es Rivetó, Caló des Macs, Cala Murada and Cala Mosca. On the right, Cala d'Or.

«Tourist settlements took over the coves from the outset, with hotels and tourist residences springing up, and in some cases second-home urban developments»

From the Ferrutx Cape to the Ses Salines Cape we find the unspoilt coves of the Parc Natural de Llevant: Cala de Sa Font Celada, S'Arenalet d'Albarca, Cala Matzoc, Cala Torta, Cala Estreta and Cala Mitjana, which were saved from projected urbanisation. Much of this area was bought up by the government with revenues obtained from a tourist tax, later abolished, popularly known as the «eco-tax». Then we have the highly urbanised Cala Mesquida, although its great dune system has retained its dignity. Cala Molto is unspoilt, but gives way to coves known as Cala Agulla, Cala Ratjada and Cala Lliteres that make up the large hotel and residential centre of Cala Ratjada, which, almost joined together, proceed to Sa Font de sa Cala and Cala Provençals.

An unbuilt area leads us to the Canyamel hotel, which continues through to the ports known as Vell, Nou and Roig, and to the major tourist spots at Cala Bona and Cala Millor, beyond Sa Punta de n'Amer towards Sa Coma, Cala Morlanda and S'Illot. The latter grew from old neighbourhoods, where people from nearby villages bought trasts –plots or fields– besides the sea, as happened elsewhere after the miraculous revaluation of what had been the poorest lands near the sea. Lower down, the protected coves known as Caló d'en Rafelino and Cala Petita give way to the urban area of ​​Portocristo and its urban complex in Cala Mendia, Cala Romántica, Cala Anguilla and the Caló de s'Estany.

Then comes a stretch of undeveloped land (Cala Falcó, Cala Varques, Cala Enganapastor, Cala Sequer, Caló d'en Serral, Cala Magraner, Cala Pilota, Cala Virgili, Cala Bota, Cala de Es Soldat, Cala Antena) after which there is a series of urban developments, known as «Calas de Mallorca» encompassing Ses Romegueres, Cala Domingos, Cala Murada. S'Algar, which is unbuilt, leads us to Portocolom, with its touristic Caló d'en Marçal. Then there follows a set of unspoilt coves: Cala Brafi, Cala Estreta, Cala Sa Nau, Cala Mitjana, Cala Fe, but continuing further along the coast we come to crowded urban developments in Cala Serena, Cala Ferrera, Cala Gran, Cala d'Or, Cala Llonga, Cala de Ses Egos until we reach the original settlement at Portopetro, which continues beyond Montdragó nature park, with its natural coves but which are exploited by nearby residential and touristic developments like those at Caló des Burgit, Montdragó, S'Amarador or Es caló d'en Perdiu. Here the coast is full of small scattered urban developments, until you get to Cala Figuera with its harbour, and Santanyí cove, Cala Llombards and Caló des Moro. Then, travelling beyond the Cape of Ses Salines, to Marmols cove and passing the headland, Caleta d'en Tugores –this whole area is undeveloped private property– leads us to the Colonia de Sant Jordi.




© Miguel Lorenzo




Besides the negative impact on the landscape and beaches caused by coastal urbanisation, another consequence of mass tourism can be found at sea, with boats seeking remote coves and damaging seagrass meadows.

«Tourism sells the cove and beach like a stage set, where another kind of life is led, a drama for many islanders, blotting out what our coves were, or had been»

Between nature and tourism

We find the main urban areas on the coast of the Balearic Islands, but it is also here that we can still find hidden spots. Tourism and residences –already sprawling inland– chose the coast, which had remained almost unchanged for centuries. As I have attempted to show above, the degree to which the coastline is exploited by tourism varies from place to place. Coves, and especially the beaches nestling in coves, are sold to the tourist industry. They are treated like a stage set where another kind of life is led, a symbol contrasting with the cold northern winter, a drama for many islanders, blotting out what our coves were, or had been, before the arrival of the northern barbarians, and those from not so far north, living among us. Thus certain tourism-related problems, such as those concerning the loss of sand and of beach area and stability are of concern to hotel owners. Other than temporary causes, the main causes of this deterioration derive from urbanisation, especially construction near or on the sand of touristic infrastructure or communications equipment, as well as interference with the dynamics of sedimentation due to the busy marinas and trouble with natural regeneration. Two solutions have been proposed to stop the touristic sandy beaches from dwindling. One is to try to retain and regenerate the sand dune system with wooden traps (Cala Mesquida, Formentera, Sa Mesquida de Menorca) and the other is to replace the sand by shipping it in from other places.

Tourism has converted coves and beaches into emblematic spots, the perfect combination for the market, to sell the Five Ss, the first three are Sun, Sand and Sea, to which Sex and Sangria have been added later on in an outburst of modernity and marketing. The beverage, sangria, was sold in the chiringuitos or beach bars, whose existence is now hampered by the Ley de Costas (Coastal Act), but which became the emblem that blotted out what coves were or had been: a place to enjoy the meeting point of sea and land, to contemplate the sound of the waters, feel the sand underfoot, smell the garrigue vegetation in the perfumed dusk. Nowadays this primitive seduction is media saturated, and we must settle for searching for unspoilt coves or sharing other coves with the issues and impacts generated by urbanisation and tourism.

Bibliografia
Buswell, R. J., 2011. Mallorca and Tourism. History, Economy and Environnment. Channel View Publications. Bristol.
Fornós, J. et al., 2007. Geomorfologia litoral. Migjorn i Llevant de Mallorca. UIB-SHNB- IMEDEA. Palma.
Picornell. C. et al., 2002. Turisme, economia i societat a les illes Balears. IBATUR-Grup Serra. Palma.

Climent Picornell. Emeritus Professor of Geography. University of the Balearic Islands (Spain).
© Mètode 74, 2012.
© Mètode 2012 - 74. Online only. The Enchanted Cove - Summer 2012