Garrofó Beans – Endangered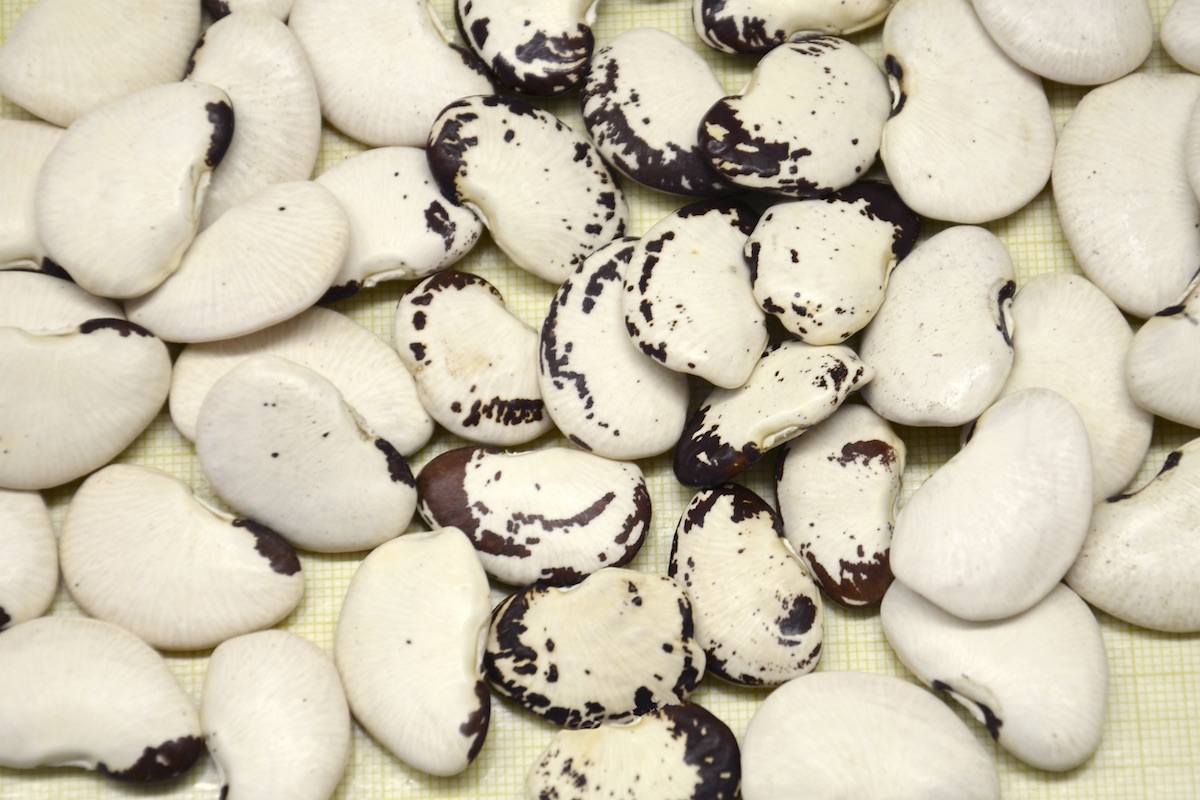 In our territory garrofons (butter beans) are highly appreciated in the kitchen because it is a basic ingredient in our national dish par excellence –our dearest paella. However, it is barely grown in our fields, and it has been years since we started importing similar beans at low prices. Now only a few dozen professionals, at the most, grow garrofons in Valencia. This reality is making concerns grow among a group of cooks and other people who are trying to protect it with a designation of origin, while reminding us that it is also a basic ingredient in dishes like soupy rice with chicken and rabbit, among others.
Foreign butter beans are completely white and sandier; our traditional varieties are tastier and have some spots, like the cella negra garrofó, which are white or palish with a purple or black spot, in one of its ends. If the spot is in the middle we have a garrofó ull de perdiu. We also have local varieties which are reddish.
Garrofons are very special, large, flat and crescent-shaped which are like no other kind of bean. Once you see it, it is unforgettable. Its most widely used name is garrofo, but is also known as bajocó, Fesol de pelaïlla, or Fesol de Lima, alluding to its Peruvian origin.
«Garrofons are very special, large, flat and crescent-shaped which are like no other kind of bean»
In addition, Valencian garrofó farming is spectacular. They build a calculated and complicated structure of reeds and threads covering the entire field. The reeds are the protagonists. They have to be new and cut into waning half. The healthiest and most resistant ones are prioritised, as they have to support a long cycle and a very important plant weight. But they still have to be prepared for something worse, because a couple of dangerous summer thunderstorms might easily come along, with lots of water and strong winds. The rods have to be very deeply stuck and very close together, forming a light and weather-resistant structure.
Before sticking reeds we must prepare the soil with a little manure, let it loose, easy to water and clean from dead leaves. Thus, when bushes grow we won't have any more weeds because darkness will impede their growth. This plant is very rustic and prefers dry climates and deep well-drained lands. Garrofons demand a lot of light, and usually grow well where other legumes do not.
Its cultivation is limited to the Mediterranean coastal regions due to their climate and tradition. In many orange groves some garrofó bushes were planted near the irrigation pond, which provided shade while the youths enjoyed a bath in the pond. Pelaïlla beans, which went straight to the paella pan, were continually harvested there. And the fact is we can collect them either tender or dry. Tender ones are cooked quite quickly and are very tasty, while dry beans are kept aside to use when we have run out of tender ones and they must be soaked for 24 hours before cooking. We need to bring them to the boil in order to remove the toxic glycoside they contain.
It is a long cycle crop and it is under ground for many weeks. Beans are sown in due time according to location, when the risk of frost has passed, usually in March or April. We start harvesting tender garrofons in June or July, but the dry harvest is done along September and October, sometimes even November.
The garrofo bush is lush, with powerful and deep roots. It has needles where flowers bloom, which are white or pale green. Later on pods grow until they reach five to ten centimetres and are very flat, and contain three or four big-sized beans.
I suggest finding a shady spot in our gardens where we could constantly find provision for our paellas that would provide many dry pods in the winter. Thus, we will preserve and enjoy the most characteristic and unique element of our traditional dish -our varieties of Valencian garrofó.
© Mètode 2015 - 84. What Is Science? - Winter 2014/15