Rita Levi-Montalcini: Jewish, woman and scientist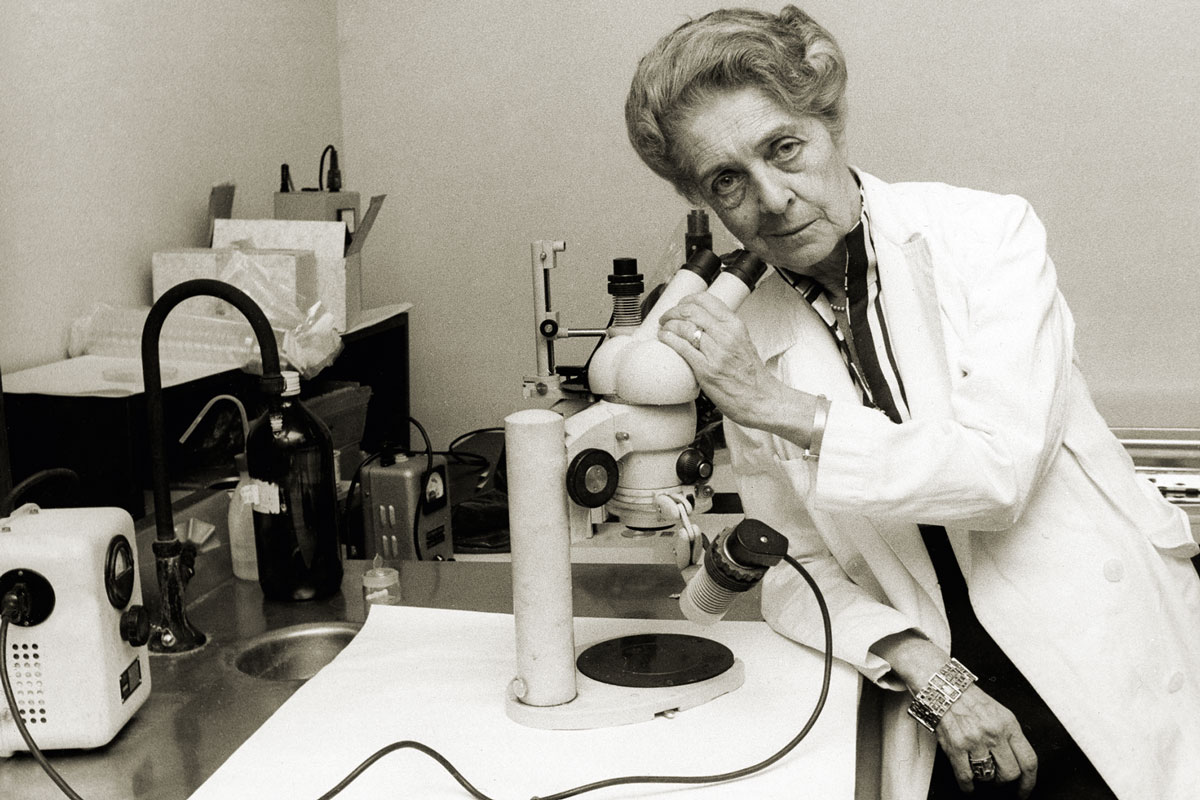 Rita Levi-Montalcini's life can be summarised in a single sentence: more than one century of struggle. Levi-Montalcini lived a hundred-year life during which she had to overcome, one by one, many obstacles keeping her from fully realising her personal project. Many would have given up along the way, but the Italian neurologist reacted to obstacles with the force of rebellion. She was born in Turin, the youngest child to a Sephardi Jewish family. Her father was an engineer and her mother an painter. Levi-Montalcini had to work as a baker to pay for her medicine degree, which she studied between 1930 and 1936, during a difficult period for a middle-class Jewish family in fascist Italy. Her parents did not oppose her medicine studies directly, but they considered it an improper occupation for a woman. What would they have thought if she had suggested a scientific research career?
«Rita Levi-Montalcini lived a hundred-year life during which she had to overcome, one by one, many obstacles keeping her from fully realising her personal project»
She was attracted by histology and, immediately after finishing her degree, Levi-Montalcini started working as an assistant in Giuseppe Levi's laboratory at the Università degli Studi di Torino, until the Manifesto of Race, dictated by Mussolini in 1938, forbade Jews from having an academic and professional career. Years later, Levi-Montalcini would say it was an incentive, that she had Mussolini to thank for declaring her an inferior race, because extreme difficulty and suffering had made her grow, make an effort and overcome the obstacles she found in her scientific career with greater will. Excluded from institutions, Levi-Montalcini worked at home in her laboratory during World War II, doing experiments on the growth of nerve fibres in bird embryos. In 1946, as soon as the war ended, she was invited to the University of Washington in St. Louis by Viktor Hamburger. The invitation changed her life for the following three decades and allowed her to develop her scientific activity to the fullest in the United States. In Washington, she identified the nerve growth factor, a scientific contribution worth, in fact, the Nobel Prize in Medicine, which she won in 1986 with Stanley Cohen.
She remained connected to her native Italy. Since the 1960s, Levi-Montalcini coordinated her research in the United States with directing the Centre for Neurobiological Research in Rome, which she transformed into the world-wide prestigious European Brain Research Institute. In her later years, she was appointed Senator for Life by the Italian Senate, and she always defined herself as a left-wing person who believed in progress and equality. She was member of the United States National Academy of Sciences and Goodwill Ambassador of the (FAO), and she created a foundation to help African women and girls to study.
Rita Levi-Montalcini celebrated her hundred years anniversary with a lecture in Rome, and publicly defended intellectual activity and social commitment as the main reasons for her long life and career. Her tireless struggle for life, social justice and science ended on 30 December 2012.
© Mètode 2017 - 92. Online only. Violent universe - Winter 2016/2017