Carles Puche
The importance of drawing science
Scientific illustrator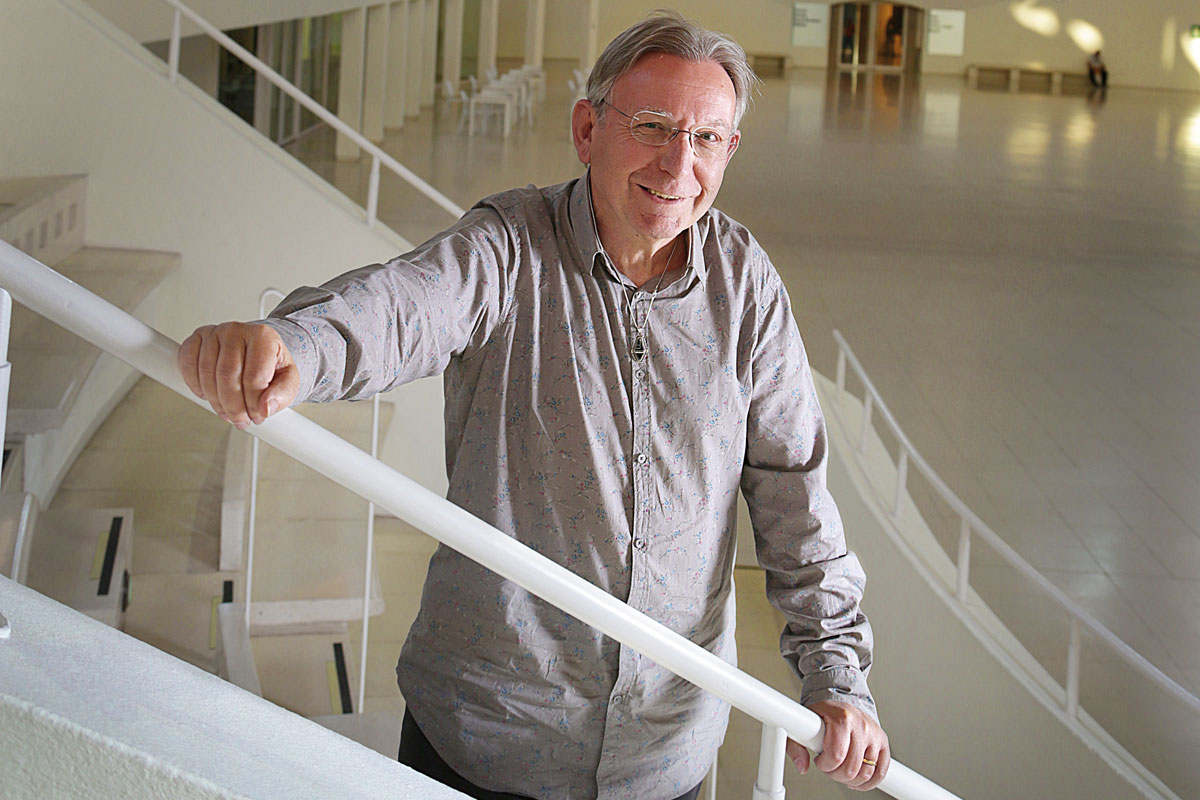 Carles Puche (La Pobla de Segur, 1949) has a long career as a scientific illustrator, including seventy illustrated books, curating two exhibitions and participating as an author in eighteen, the most international being the one to be held in the New York State Museum in 2014, where three of his works will be shown in the exhibition that this institution organizes every year devoted to scientific illustration. Over his 33 years of career, he has twice won the Junceda award of the Professional Association of Illustrators of Catalonia in the specialization of scientific illustration, and he has been vtaught drawing courses since 1982, the first of which was held in Fontmartina (later, they were held in the Aiguamoll de l'Empordà, then in the Chair for Scientific Dissemination of the University of Valencia and recently at the Centre d'Art i Naturalesa Farrera). Now he wishes to create a publicly and privately funded collection of scientific illustrations with the support of some prominent people from the world of science and research. All with the conviction that illustration is part of the history of science and that we must preserve it, activate it and make it known. In this article, his daughter, journalist Carme Puche, shares one of the many conversations she had with him – or a conversation that could be the result of many – about the importance of drawing science.
«I don't know if people are aware of the effort, knowledge and skills it takes to illustrate» Carme Puche
There were always many paintings at home. Many. The walls were almost fully covered in landscapes, still lifes, portraits and nature in general. There were birds, plants, mammals, reptiles, insects. Many of those pictures were my father's, but not all. Is the portrait of your great-grandmother also your father's? Yes. That landscape signed by some «Carme»? It's not any «Carme», it's my mother – we share the same name. The still life depicting a pipe? No, by someone called A. Puche, but we are not related. Each of those works was done by someone who had devoted many hours to it. That realization came to me when I went to my father's study before dinner: he left the coloured pencil on the table and looked with satisfaction at what he had on the paper (not always, sometimes he was in a bad mood and couldn't draw anything, because not even scientific illustration escapes moods). But in any case, that was valuable to him and to us. In fact, everyone at home can draw. And I thought that all people could. That was far from being the case: most of the population does not have the slightest idea how to take a pencil and express themselves through drawings. It is a shame because knowing how to draw is as important as knowing how to write.
Carles: In fact, every time I start a drawing course and someone tells me they cannot draw, I always say the same thing: if you know how to write, you will know how to draw. We're talking about symbols, after all! The most complex drawing is made ​​of circles, thousands, if you like, but you could draw everything using thousands of circles.
Carme: And hairs. Do not forget the thousands of hairs you had to draw over your career. Gorilla hair, forest rat hair, otter hair… you can skip not one of them any when drawing for dissemination, especially for scientific dissemination! I don't know if people are aware of the effort, knowledge and skills it takes to illustrate natural sciences or science, depending on the context…
Carles: The names are not clearly defined. If we need to delimit concepts, we would talk about scientific illustration when it can be measured, that is, it's in black and white, to rigorous scale and used in the communication between scientists, for example, because a new species of plant has been found and it is drawn depicting its significant features.
Carme: Scientific illustration is what you did with Jorge Wagensberg and Technomyrmex caritatis, the first descriptive drawing – it was called holotype, right? – of this ant. We lived among ants for months! I remember that 3×2 cm stone drawn to three metres per two, in fragments, mom assembling a puzzle, the giant ants… they looked like abstract drawings!
«Drawing is a means of communication, we live in a largely visual world, how could we set aside such a good way of communicating and popularizing science?»
Carles Puche
Carles: I became fascinated by ants till the end of time. It's almost an obsession. For example, the ants I have drawn in Quadern de camp (Field Notebook), the blog, would be more along the lines of the most informative natural science illustration and, as the name says, only framed within the world of natural science. Another example is the illustrated work of Darwin's On The Origin of Species (Junceda scientific illustration award 2010), published by the University of Valencia, or those early posters on flora and fauna of the Montseny I did for the Barcelona Provincial Council…
Carme: Early, I had forgotten about the beginnings. Allow me to summarize your life, from daughter to father: you were born in La Pobla de Segur in a family that was not overly interested in anything related to arts. You got sick very often and grandpa used to give you comic books. You read them and copied them, and little by little you started to draw original cartoons lying in bed. You tried to complete a 3-year engineering degree but your parents put you to work. That work experience was very hard. You grew familiar with the world of mining and the dangers of working underground, digging tunnels for the construction of the first pumped-storage hydroelectricity plants made ​​in Spain. Then you got married, had a son, left the Pyrenees and found a job in Barcelona, in FECSA, decisive to get ahead. You had a daughter and the whole family moved to Sant Celoni for work. There, you met Martí Boada, and among your cartoons, landscapes and still lifes there was one of butterflies that mom had hung in the dining room at home. Martí saw it and encouraged you to go to the forest with him to keep drawing. You two worked together, then also with Teresa Franquesa, with Ramon Folch, Jordi Sargatal. And you got addicted…
Carles: I was fortunate to befriend many people… I think everything I've done is thanks to my friends.
Carme: Well… I have many friends and they don't ask me to illustrate their books. Humility has its limits.
Carles: I haven't made myself clear. At first I didn't know anything about nature, I've always said so. A tree was a green thing with a brown trunk reaching to the floor… I discovered the natural world from Martí, and then continued with Teresa, who finally got me completely hooked to the topic… and I've stayed because I have always felt at ease. But I can't say «I've liked animals since I was a little child.» I was an underground cartoonist! But I don't think it's a matter of humility to say that I've been fortunate to work with very good people. The reality is that if you work with undemanding professionals, your work suffers. Being next to such good scientists, who like what they do… I could go on and on, Valentín Villaverde or Juli Peretó in Valencia, Ricard Guerrero now that we are working here in Mètode. With all of them I've been able to draw places and motifs that had never been drawn before, such as the landscape in Alicante in the Cova de les Cendres in the Late Glacial, the figurehead of the Beagle or the microbes only represented by microscope photography.
Carme: Right now you have about 3,000 finished originals, if mom was right the other day. It's another one of the things I remember the most from home, the importance of originals. Your drawings were like treasures and we had to be very careful not to damage or spot them, and store them very carefully. That's not what we found in our research on illustrators…
Carles: Not in the slightest. Remember when we were looking for Suzanne Davit's illustrations, some were kept as treasures, as you say, but others were cornered in a wall threatened by dampness and mould… and she had been the illustrator on payroll of the Botanical Institute of Barcelona, a woman recognized by many scientists, encouraged and sponsored by people like García del Cid or Font i Quer!
Carme: It was different when we were working for Eugeni Sierra's exhibition, everything was usually better preserved, but in this case it was the author himself that didn't defend the original. I guess working with the sole intention of reproducing the drawing as an accompaniment to a scientific text, as was the case, for example, with Flora Ibérica, made ​​him indifferent to using correction fluid on originals, which to me is a painful sight.
Carles: But at the rate at which he worked, repeating the whole drawing, which was for the most part acceptable, did not pay off. Then, it was much more practical to use correction fluid, since it would be hardly visible in printed reproductions. But what we realized, with both joy and sorrow, was that there were many works by Sierra and other prominent names, such as illustrations from Pius Font i Quer himself, that were in domestic spaces, without the right environment for their conservation or simply outside the scope of researchers and, why not, the general public. How could it be that we had to invest so much effort to see that work?
Carme: I remember we were all very outraged and burning with impotence, that's why you started thinking about the idea of a collection of scientific illustrations in Catalonia… and here we are, explaining it in Mètode. But we haven't got anything done yet!
Carles: That's not true. For starters we have a fairly clear idea of how it could be organized. We're talking about a collection that doesn't have to be created from scratch, but which can instead be nourished by the already existing infrastructure, for example, we don't have to create a space for a new record, it can be stored in another collection willing to participate and that provides conservation. Actually, we spoke with Ricard Guerrero and the Institute for Catalan Studies could be a first step, in this sense. We have to be very grateful. Moreover, there are institutions that are already making the effort to preserve works, we don't need to move all the works to a single collection, we can have a digital collection that links everything.
«Institutions are interested in finding documentation on great eighteenth-century scientists or in buying foreign exhibitions, but not in promoting national scientific illustration»
Carles Puche
Carme: The idea of digitization is imperative. In fact, it is such a powerful tool that it doesn't make any sense to think about a collection of plastic material such as scientific illustration if not from a digital perspective. Therefore, the first thing we would need to do is to create an online database where you can browse the catalogue of the collection of scientific illustrations in Catalonia and, why not, everywhere.
Carles: Besides, there are different options for those works that want to be physically stored in the collection. There can be different levels: you can donate, store them in the deposit, sell them – when the collection has budget to buy works – and then there is the issue of locating them. That is, the Botanic Institute has works in their record, if it wants to keep them locally, they have at least to be part of the digital collection so that there is a common space. In any case, the philosophy should always be «what is the best way to preserve and disseminate the works.» Because digitization is obviously indispensable, as well as powerful, but it will also be so if there's a space for dissemination and training. We need a minimum space intended to promote the works and history of scientific illustration and its protagonists. Actually, that's indispensable because this is not about storing illustrations in drawers, but about giving value, access and visibility to a heritage that in other places has already a recognized place.
«There are many scientist interested in publishing illustrated works, but by the time they think about it they no longer have enough budget. We should recover teamwork» Carles Puche
Carme: That's what you told me the other day, that in the United States scientific illustration is already studied in university, and that's why also the museums and scientific institutions plan to include illustrators among their staff. For instance, you are going to participate in the Focus on Nature XIII (FON) of the New York State Museum with three works. A total of 71 illustrators are participating and the exhibition will be open for one year. Why don't we have a FON in Catalonia? Is it because there aren't any illustrators?
Carles: What we are lacking here is a real interest. There has not been any institution concerned about that. They are interested in finding documentation on great eighteenth-century scientists or in buying foreign exhibitions, but not in promoting national scientific illustration. You see, one of the FON catalogues states in its introduction that this exhibition is a demonstration of the importance of scientific illustration and that people are eager, there is a staff of people working… Here it is not as valued. Or perhaps there have been many weaknesses on too many sides. But now new technologies give us a unique opportunity, and we have infrastructure that can serve as physical space.
Carme: There are buildings with great potential and symbolic value for the city of Barcelona, ​​such as the Museum of Geology and Zoology at Ciutadella, or the old Botanical Institute, both closed now. They would be privileged frameworks for this initiative, which could be taken into account along with other projects I guess may exist for these infrastructures. What I mean is that this project may be as good as any other that may be proposed. The collection of scientific illustration would be very in line with these spaces. Pau Senra (KdV Cultural Consultor) referred to it the other day as «Centre for Scientific Illustration»… We should think about it!
Carles: More things we also have: collaborators. Pau, like you just said, Ramon Folch and also Ricard Guerrero have been involved in the project on which we have been working. Not only do we have an idea in mind, this idea is being built with different views on what should be the best way to carry it forward. It's no mean feat.
Carme: Since we're here at the National Art Museum of Catalonia, we may as well talk about it… I know that this means stepping into the debate of whether scientific illustration is art or not. I suppose that we shouldn't judge the genre, or the technique as a minimum – again, this depends on the context – but the work itself.
Carles: This is a serious problem: we need scientific illustration to become part of art schools. If comic is included in the curriculum, and not all comics may be art, why don't we teach scientific illustration?
Carme: It doesn't offer many job opportunities?
Carles: Actually, it doesn't offer many in our country, but neither does the world of comics. Many cartoonists also go through tight squeezes. I mean, there are many scientists interested in publishing illustrated works, but by the time they think about it they no longer have enough budget. On the other hand, institutions do not value it, do not see it as a necessity. When scientists have finished a research project and want to publish a book, that's when they think about illustrators, but there isn't enough budget and they end up using their own photographs (and that would be worthy of another article: the naturalist or scientific photographer). There are fewer and fewer scientific illustrators in our country, and that's not happening in other places. We should recover the teamwork between scientists and illustrators in research, in the same way that it is widespread when excavating an archaeological site. Atapuerca is a good example.
«Digitization is indispensable, besides powerful, but it will also be so if there's a space for dissemination and training» Carles Puche
Carme: When you started you were commissioned by publishers and authors that valued illustration as an important part of the budget. That's not the case anymore. Without commissions, it is difficult to become a scientific illustrator because, as we said, we need to work with scientists in different disciplines…
Carles: That's why it is so important to look back, to search for what we have and to disseminate it. And to promote the talent of people who want to pursue this career. Moreover, and I will not tire of saying so, drawing is a means of communication, we live in a largely visual world, how could we set aside such a good way of communicating and popularizing science? I'm not saying that reading the description of a tiger is not important, but nobody would deny that an image can convey many things that can hardly be captured in words. Learning to write is important…
Carme: …but so is learning to draw.
© Mètode 2014 - 80. The science of the press - Online only. Winter 2013/14