Carl Faust's legacy
A discreet patronage of nature sciences in our country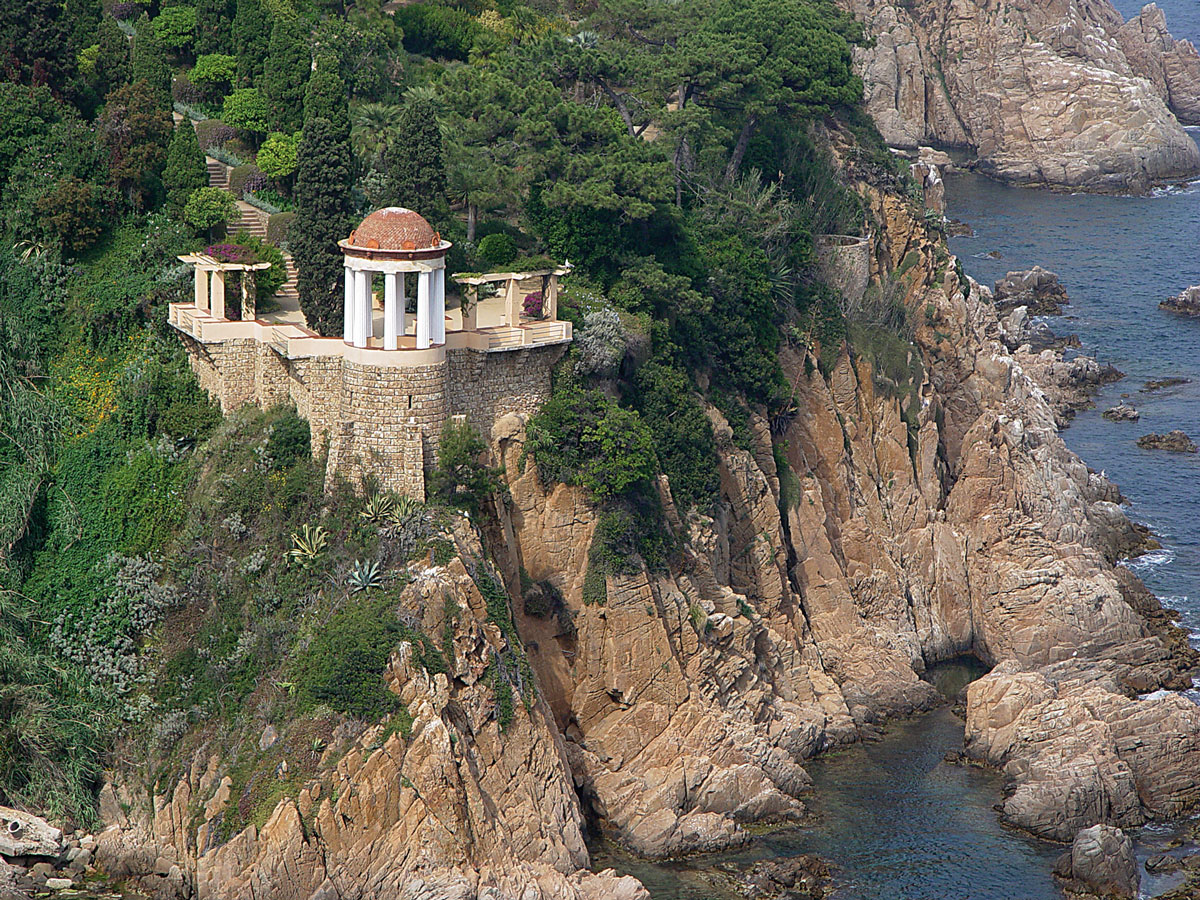 This country has never lacked patrons of arts and humanities. They have not been very numerous, but there have been some of them, but, what about patrons of science? How many have you heard of? Does anybody know any of their names? Probably there have been just a few. So, among those few patrons that helped the advance of knowledge in our country, one of the most efficient ones was a German citizen that chose to live and die among us —from a very early age until his death— and who is remembered by not many people outside the town of Blanes, in the Catalan region of La Selva, that took him in and where his remains rest. His name was Carl Faust.
Success in the Mediterranean
Carl Faust was born in Hadamar, a small city between Frankfurt am Main and Koblenz, on September 10, 1874. He was Konrad Faust —a topographer and official surveyor— and Elisa Schmidt's first-born. After his birth, they moved to Bockenheim —a town that nowadays belongs to— Frankfurt am Main, where they established their home and where his five siblings were born.
From a very early age, Carl Faust showed his capacity for natural sciences, particularly botany. Young Carl's teachers told his parents about his son's interests, however, because of his first-born status, they thought it was imprudent spending so much money on a scientific degree and they forced him to study commerce and finish his secondary education.
Once he finished his military service and his superior studies of commerce, there was a turning point in his life. A friend of his father, an executive in the Barcelona branch office of a German company, offered him a job and Carl accepted immediately. An inner impulse pushed Faust to the South, to the coastal Mediterranean lands of lemon trees in bloom, evoked by Goethe in his Wilhelm Meister Lehrjahre (Wilhelm Meister's Apprenticeship) a book Faust knew by heart and which had left an imprint on him. Carl Faust's whole life seems to follow in a certain way the model of the Goethe's Wilhelm Meister. So he moved to a far away land, being still very young, to start an initiation journey. He left Frankfurt on October 11, 1897, when he was just twenty-three. It took him two days by train, calling at Basel and Geneva, to get to Barcelona, where he started immediately to work.
«An inner impulse pushed Faust to the South, to the coastal Mediterranean lands of lemon trees in bloom, evoked by Goethe in his Wilhelm Meister Lehrjahre»
His career in the company world was meteoric in every possible way. Executives of the company Gebruder Körting soon appreciated young Faust's qualities and granted him with power over the company in 1903. In 1905 he was appointed manager of the company. But his entrepreneurial spirit led him to establish in 1909, together with another young German entrepreneur, Wilhelm Kammann, his own company, Faust Kammann (still in operation), an equipment and plumbing business.
Young as he was, he still had time to practice his sport hobbies. He was one of the first members of Club Natación Barcelona (Barcelona's Swimming Club) and he also became member of the excursionist club of Catalonia. A lover of music, he usually went to the Liceo and his friends were some composers and performers, like Marius Mateo.
The young company succeeded. In a few years, Faust Kammann opened branches in Valencia, Madrid and Seville and had a great success. So, both of them made a fortune. But this could not stop Carl Faust's passion for the contemplation and study of nature, and from 1918 on, he started to shape the great work of his life: the Marimurtra botanic garden.
First of all, between 1918 and 1919, he started to buy vineyards and uncultivated land in the eastern slope of San Juan de Blanes mountain, on the first cliffs of Costa Brava. In 1919, he ordered to the nineteenth-century architect Josep Goday the project of the house, gardens and pavilion that were to be erected in the purchased lands. On December 30, Goday gave him the project and started the construction of the first facilities and planted the first seeds.
A passion for science
In 1924, when he was fifty, Faust took the final decision: he left the business and retired to live in Blanes and put his heart and soul into his dream of creating a Mediterranean botanic garden where every scholar could get in deep into the knowledge of vegetal life in a harmonious and pleasant atmosphere. In his own words, to find «an Epicurean republic of biologists where scholars and wise people —away from the noises of the big city and everyday life, in the middle of an interesting garden, with an ideal climate and a Hellenic landscape— can be devoted to the creation of ideal values and the search for an absolute truth».
«Carl Faust equally promoted lines of naturalist research, which in those years started to get their way in Catalonia with young scientists interested in fields like marine biology, limnology and ecology»
He tried to start relationships with the best botanists and naturalists of the country and Europe. He made Pius Font Quer his main advisor and his best friend and through him he met Carlos Pau and Josep Cuatrecasas. In his travels around Europe, he established good contacts with important botanists like Ludwig Diels (1874-1945), Eduard Frey (1888-1974) and especially Josias Braun-Blanquet (1884-1980).
After that, between 1930 and 1935, with new purchases, Faust bought more land in the adjoining forest of San Juan mountain. In those years, Marimurtra was already a reality that progressed without obstacles. Some of the best gardeners of the moment were working there. First the Swiss Zeno Scheiber (1927-31 and 1934-1935) and later on the German Willy Narberhaus (1931-34) and the Swedish Eric Sventenius (1934-1940). Among Catalans, Miquel Aldrufeu, close contributor of Rubió Tudurí in the execution and maintenance of the Monntjuic gardens, Barcelona, and Noel Clarassó
The construction of the Linné pavilion started in 1936, which would become one of the most representative symbols of Marimurtra. Faust just needed to give legal form to the entity to ensure the continuation of the project beyond his death. He planned to do so by the end of the year and with that idea he went on holidays in early July, as he made every year. The outbreak of the Spanish civil war took him by surprise during his holidays in a German spa. Despite of being in his native country and being able to travel around Europe, far from Blanes he felt practically in exile.
Meanwhile, the main office of the company in Barcelona and the branches in Valencia and Madrid were collectivised and put under the management of its workers. Joan Llatas, of the CNT (National Confederation of Labour), directed the committee of the company and at the same time took care, in his own way, of the interests of Faust in Barcelona and Blanes. Joan Llatas and Miquel Aldrufeu made an anti-fascist front of gardeners that took charge, in front of the home committee of Blanes, also directed by the CNT, of the continuity of Marimurtra. The scientific director of Marimurtra, the Swedish Eric Sventenius, required by the embassy of his country, started to manage children's shelters for orphans or refugees in Tiana sponsored by the Swedish government. He just went to Marimurtra some weekends with some of the older children to make some work of maintenance and some farming in Marimurtra.
In this situation, in 1937, seventy-five years ago, the Mediterranean Biology International Station was created in Basel. It had to be managed by a scientific and administrative board formed by the Helvetic Society of Natural Sciences; the Helvetic Society of Botany, the Kaiser Wilhelm Gesellshaft; the Royal Botanic Society of the Netherlands; the Swedish Botanic Society and it had to be directed by Gustav Svenn, president of the Helvetic Society of Natural Sciences. As soon as it was possible, the Barcelona Botanic School and the Spanish Society of Natural Sciences would be invited to join them. The Foundation would be created under Spanish law, and with the purpose of promoting and facilitating the study of biology, especially botany, to students and graduates from all over the world, paying particular attention to those studying the Mediterranean flora and subtropical regions. Faust remained its lifelong director, with the right to live in the house of Marimurtra, and at his death, it inherited most of the patron's properties.
When Carl Faust came back to Barcelona in September 1939, it was a completely different country to the one he had left three years earlier. Some of his friends were already gone: some had died and others were in exile. Others, who had stayed, were either incarcerated or fired from their jobs or marginalised. For Faust, who had never really noticed the scope of the war from abroad, it was a terrible blow. It was worse when he realised that both the Spanish and the international political scenario impeded the normal development of his plans and that his international foundation had no place in the hyper-nationalist and autarkical legislation of the early Francoist regime.
Patron of botany
However, after his return to Catalonia, he unconsciously became a patron of the worst off Catalan naturalists (Font i Quer, the Catalan School of Natural History) and also, during the Second World War, of some of his colleagues living in occupied France (Braun-Blanquet, pavillard, Reynaurd-Bauvery). He equally promoted lines of naturalist research, which in those years started to get their way in Catalonia with young scientists interested in fields like marine biology, limnology and ecology. One particular case is that of Ramon Margalef, who would eventually become one of the most world prestigious ecologist, but that in that moment was just a young office worker in an insurance company that had not even finished his secondary education; and botanical illustrations, where a young Eugeni Sierra stood out. Faust made possible young Margalef's first trips to the sea, putting him in contact with some fishermen of Blanes. Also thanks to Faust was he able to take his first trips abroad and it was Faust who paid for Sierra's drawings included in Margalef's first publication on marine plankton.
The Spanish and international political situation impeded the normal development of the foundation created in 1937 in neutral Switzerland. Especially, the ultranationalist and autarkical Francoist regime and the confrontations of the Second World War, and, the subsequent blockade of his German properties by the allies. In the end, after some unsuccessful trials to adapt his international foundation to Francoist regime's legislation and expecting his death, Carl Faust created in 1951 a new foundation in agreement to the Spanish law of the moment. After many adaptations due to the evolution of the legislation in later years, the Carl Faust Foundation, which currently looks after the legacy of his creator (and especially of the Botanical garden of Marimurtra – Mediterranean Biology International Station) and of updating the scientific and popularising orientation, it is the successor of that foundation, and, at the same time reclaims the international legacy of the first foundation that Faust created seventy-five years ago in Basel.
Carl Faust died in Blanes, in his house of Marimurtra on April 24, 1952, sixty years ago, leaving for the town of Blanes and all the lovers of science the extraordinary legacy of Marimurtra.
© Mètode 2013 - 76. Online only. Women and Science - Winter 2012/13